The Macintosh Guy || MacTips || Email Lists || My Blog
---
MacTip #37
Cool Iconic Tools

MacTip #36, Iconic Tendencies discussed how icons work. Now that you are grounded in the basics it is time to move on to some of the tools of the trade. There are tools that can help in creating, storing and displaying custom icons.
Working on these icon tips has been really fun for me. I don't think I have ever come across so many nice people all in one arena of software before. I was amazed when person after person and company after company was willing to either send me a full copy of their product for evaluation or to offer copies in the MacTip announcement giveaway. Various companies and individuals have agreed to provide a total of 33 copies of their various products to a member of the MacTip announcement list. Thanks everyone!
Icon tools generally fall into one of three categories. Collecting, altering, or displaying. Icon collecting tools are ones that make retrieving and storing thousands of icons a snap. The tools for altering icons range from acting like a rubber stamp to mini-Photoshop applications. The couple of tools that automate the displaying can make easy work of customizing your plain old folders or files.
Each of the tools mentioned are being actively developed and the companies that created them were very responsive to my increase about them. There were a couple tools that I chose not to mention either because they haven't been updated for a couple years or I was unable to find sufficient information about them. Those listed below are definitely ones that stood out to me as "Cool Iconic Tools"!
Collecting Icons
Collecting icons is something I haven't spent much time doing for years. There was a time when I had floppies and floppies (800k floppies that is) full of icons. Each icon was stored on a separate empty folder on the disk. Each floppy contained a different genre of icons. I had ones for icons of cartoons, household items, movie stars, each Mac model, commercial logos, cars, etc. Needless to say, my archiving method lacked elegance but it worked.
Since my days of black and white icons on 800k floppies many icon archiving solutions have come and gone. Even though it has been a while since I did a lot of icon collecting I had a lot of fun grabbing icons from around the net to test these products with.
Although it has become a much less significant issue with HFS+ and expansive hard drives, the initial need for icon archives was primarily logistical. Each icon (an invisible file stored within the folder that is displaying it) is only a couple kilobytes in size it will occupy a minimum amount of space on the hard drive. With smaller drives and drives formatted with Apple's new extended disk format HFS+ this is rarely much larger than the file itself. But in the case of larger drives, this can be many times the size of the icon file itself. When this is multiplied over potentially thousands of icons you can end up taking a significant amount of space. Icon archiving utilities deal with this by storing many icons in a single file on your hard drive. For example, 1000 custom icons that occupy only about 600 kb when archived in an icon storage utility can take up more than 6 megabytes (10 times the space) on a 4 gig drive. (The same files on a HFS+ volume only occupy about 1.6 megabytes.)


Icon Archiver 3.0 by Alessandro Levi Montalcini ($25 shareware)
Icon Archiver was the most initially compelling icon storage tool. Within a few minutes of launching the program I was able to collect hundreds of icons into an 'Icon Collection' and get them back out again.
Opening Icon Archiver 3.0 presents you with an icon collection window. A simple drag of any Finder item will set Icon Archiver on its way extracting any icons out of those items. Get ready to be surprised. Dragging a small partition of my hard drive resulted in thousands of extracted icons. Just dragging the Adobe Photoshop folder over resulted in 413 icons. Removing the duplicates brought it down to 382. If this quantity seems as daunting to you as it did to me don't worry. Icon Archiver also has some incredible sorting and filtering capabilities that can provide you with exactly the results you seek.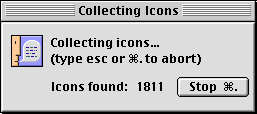 In addition to being able to extract icons from any standard documents and applications, Icon Archiver also is able extract the icons from the other icon collecting tools by just dragging their files to the Icon Collection.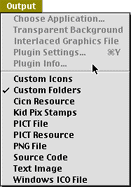 Icon Archiver isn't only intuitive in how it collects icons. If you want to get your icons back out, perhaps to share with friends or to use for custom folders or to use on other files your icons are only a drag away. Selecting one or many icons and dragging them to the Finder will provide you with each selected icon in the format you choose from a menu.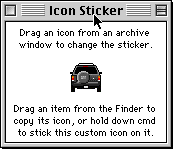 The Icon Sticker is Icon Archiver's quick and easy way to modify the icons in your Finder. The simple instructions right in the window tell it all.
To sum it up, Icon Archiver is the easiest way to collect every icon from you hard drive and get them back out again. Its simple elegance and sorting/filtering power make it a very cool icon collecting tool.

IconDropper by the IconFactory ($20 shareware)
IconDropper is from those icon kings at the Icon Factory. I must admit that the single coolest thing about IconDropper is that all the icon sets from the Icon Factory come in this format. Icon Dropper's strength comes in the organization it allows and the clean display of icon collections. When you launch IconDropper you are presented with a split interface. One side shows the hierarchy of Icon Packs contained in the Packs folder and the other side shows the icons that comprise that pack including titles and information about the pack itself. IconDropper packs are clearly the slickest way for an icon artist to distribute their icons.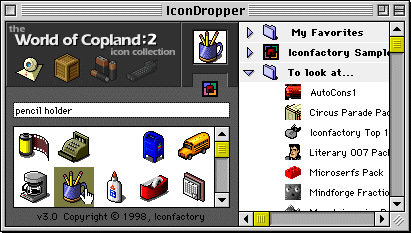 IconDropper also provides an easy to move these icons to your desktop. Each item that you drag onto the IconDropper icon will quickly be modified with the icon you then choose from the Icon Dropper window.

The other half of IconDropper is IconPacker. IconPacker is what a registered user of IconDropper can use to create icon packs. Interestingly enough it is almost easier to create the icon packs with IconPacker than it is to view them in IconDropper. It provides full control of how your icons are presented including naming each icon, the icon set and a healthy amount of room to display an image that will set the theme of the icon set. IconDropper, IconPacker, and the IconFactory are a great combination that delivers clean and fun icons in a clean and fun interface.
Altering Icons
When it comes to altering Icons or creating your own there are really two classes of products. There are resource editors like ResEdit and Resourcerer which are basically for pixel by pixel editing of icons (in addition to editing most other interface elements of applications) and there are applications that are specifically designed for editing and modifying icons.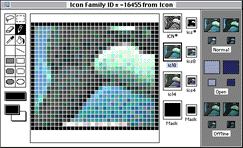 ResEdit from Apple (Freeware) [Download]
ResEdit is the longtime Mac geek standby. ResEdit can be used to alter most every part of the Macintosh interface. Whether you are hacking into the system file or editing key parts of an application, ResEdit is a tool that makes it all possible. (MacTip #36 discusses getting started with ResEdit to edit your icons.) The single best feature of ResEdit is the price, its free as a download from Apple. Although ResEdit is enough to do the job it is more for those who honor the purity of basic tools. With ResEdit you end up editing your icon pixel by pixel. Great for some but many appreciate the control that can be found in some of the other icon editing programs. BTW, ResExcellence is a site dedicated to things that can be done with resource editors like ResEdit.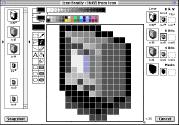 Resourcerer from Mathemaesthetics ($256 commercial software)
Resourcerer is the commercial counterpart to ResEdit. Even though it can cost a pretty penny it is a great tool for the serious Mac user to have around. It allows for searching and comparing of files, and lays out the different parts of a piece of software in a manner that places it a cut above ResEdit. Although Resourcerer is a very cool resource editing tool I can't say that it is worth purchasing it just for editing icons.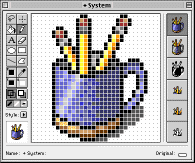 Icon Machine by David Thoreau Catmull ($20 Shareware)
In researching this MacTip I asked a few icon artists what they used for creating icons. Some were staunch pixel by pixel ResEdit advocates but other than that Icon Machine was to tool of choice.
Honestly, after launching Icon Machine the first time I was wondering what everyone was so excited about. Sure it has a clean interface and simple usable tools but in looking at it I didn't see anything earthshaking. Then I picked up the pencil and started to draw. Even though it used the same 32 x 32 pixel square as every other icon editor there was a fluidity that even made me feel like I could create something of beauty. Icon Machine has a way of making a little square of 1024 pixels feel like an expansive painter's canvas.
Icon Machine is truly Photoshop for icons. If you're comfortable with Photoshop, Icon Machine will be a welcome extension to what you already know. If you don't know Photoshop, this would be a good place to start learning.

IconTools from Riccisoft ($15 Shareware)
IconTools was the one cool iconic tool that actually made me laugh out loud when I first saw it do its thing. IconTools is a contextual menu plug-in and therefore requires Mac OS 8 or later. IconTools works on the premise of tools, stamps and frames. Each of which will change the appearance of the selected icon or icons.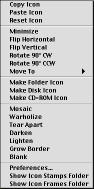 To use IconTools you simply hold the control key while clicking on an icon in the Finder. The resulting menu will provide all the options you might ever want for changing the basic appearance of your icons.



The IconTools set of commands will take the currently selected icon and alter it to your command. Rotating, minimizing, tearing, folderizing, etc.



The Icon Stamps set of commands is likely where you will have the most fun. The stamps allow you to easily mark a folder, file or any other icon with a stamp that can indicate its condition or contents. IconTools ships with 100 great stamps and you can always add your own.


The Icon Frames set of commands allow you to place one of 35 different images behind your icons. You can use this to create frames behind other custom icons or you can combine frames to create more complex icons by applying one after the other.
I found that IconTools was the one cool iconic tool that could both be a lot of fun and also provide a valuable role in helping me organize my different files and be able to tell at a glance what a particular folder or file contained.
It seems the best way for me to use IconTools was to make an Alias (using Command-Option drag and drop in Mac OS 8) and to work on the alias instead of the original icon. IconTools also has a handy copy and paste item in the menu for easy transport and application of the custom icons you create. IconTools is one that you must take the time to check out!
Displaying


iClick by Tools and Toys ($9.95 shareware)
The one click, one trick, icon pasting pony. I like iClick because of its elegance and simplicity. It only does one thing, copying and pasting of icons through Mac OS 8 contextual menus. If that is everything you need then iClick is a great solution.
A mailware alternative to iClick is available from Hide's Software.

Kineticon by Kinetic Creations ($10 Shareware)

Kineticon is simply an animated icon extension for your system. In places where you previously had icons just sitting on the screen, with Kineticon they will be bouncing, bopping, swaying, waving or just plain moving somehow. Although Kineticon seems to work just fine even on slower Macs the animation can be noticeably slower than on a current PowerMac. Even though Keniticon doesn't really provide anything you couldn't live without, it is pretty cool. If you are interested in something a little bit fun for your Mac check out Kineticon.
The Whole Enchilada

Icon Mania by Dubl-Click Software ($39.95 Commercial software)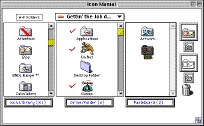 Icon Mania is one of the few attempts of a software company to make one tool that does it all. Icon Mania is an icon archiver, editor and transfer tool.

Icon Mania opens with a 3 panned window that allows easy transfer to and from items on your hard drive and icon libraries.
A simple drag of a library icon to an item in the drive/folder list will transfer that icon to the item, a red check will let you know if the icon is a part of the file itself or a custom one. You can also easily choose basic system icons from a pop up and apply custom icons to your trash can, alert dialogs and other standard system icons.
Two clicks on any item will produce a full featured icon editor to allow editing of each icon. Icon Mania does a decent job of trying to be everything you would want for dealing with icons.
Icon Mania does have a couple limitations. If you happen to be running your monitor in thousands or millions of colors you will have to switch your monitor settings to 256 colors while you use Icon Mania. The other limitation that I see in it is in its lack of active interaction with the Finder. I kept expecting to be able to drag item to and from the Finder and was unable to.
Icon Mania is a program that has been around for a number of years and has proved useful to many users. It is still usable but is getting a little behind the times.
Looking Ahead!
In reality icons haven't changed much since they became a part of the Mac OS in System 7. It is about time for something to change In looking to the future, there are some significant changes in the near future for icons and cool iconic tools. With the release of Mac OS 8.5 Apple will reportedly release a new icon format that will take them up into thousands of colors (instead of 256) and increase the size to 48 x 48 (instead of 32 x 32). Some of the software developers I talked to were very excited about the new possibilities available with the new icons. It will be exciting to see where things go from here.
I hope this MacTip has given you a good picture of some of the Cool Iconic Tools available for the Mac OS. I know that most of what was covered won't make your Mac run any faster or more efficiently but it may put a smile on your face. I hope you take the time to make your Mac a little more fun to look at and work with.
---
MacTips || Feedback || MacTips Archive || The Macintosh Guy
---
This site, its source code, and the MacTips logo ©1996-2016 Eric Prentice. All other names, logos and images are copyright their respective owners.