The Macintosh Guy || MacTips || Email Lists || My Blog
---
MacTip #41
Mac OS 9 Install Guide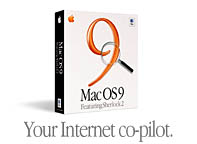 Apple says that Mac OS 9 is your new Internet co-pilot. While Mac OS 9 offers some really neat features most are either refinements of current technology or foundational improvements that will allow software developers to do cool things in the future.
Every time Apple comes out with a new version of the Mac OS there are always people telling you all kinds of information about it. Even before it is released you will be able to know how your old programs will run with it, where to buy it, how much you can pay, long lists of all the new features, and even the latest bugs that have been found.
This MacTip is a step by step guide to installing Mac OS 9 that attempts to cut through all the marketing stuff and tell you exactly what goes where.
Pre-Install Considerations.
A couple of things to consider about before you install OS 9. Any time you're doing a major system overhaul you will most likely need to re-enter some or many of your system settings, given that you will be spending some time configuring your system you may want to take the opportunity to do something more thorough like getting that new larger hard drive or partitioning your current hard drive. I won't take the time in this MacTip to outline every precaution to take before installing a system update but tip #12 "System Installs etc." although a bit dated covers some of those issues.
The safest way to install Mac OS 9 is on a freshly formatted hard drive. Unfortunately most people don't have the luxury of being able to reformat their hard drive at any time. The next best option would be a "Clean Install". Simply checking the "Perform Clean Install" check box after clicking the "Options" button on the "Select Destination" screen will disable your old system folder and give you a new one. If you don't have enough free disk space (100-250 MB) to do a clean install you will want to use your Extensions Manager to disable all the non-Apple control panels and extensions before installing the new system. After the update you will only want to re-enable those disabled components after verifying that they are compatible with Mac OS 9. (Here and here are a couple places to look for compatibility information.)

Mac OS 9 provides you with the opportunity to install any combination of 10 different components that comprise Mac OS 9. Apple has done a great job with introducing assistants that will help you setup the software after it has been installed but it is close to impossible to know from the list of titles and check boxes exactly what you are installing in the first place.

While running 'Mac OS Install' simply click the 'Customize' button to see all 10 components in the "Install Software" part of the install.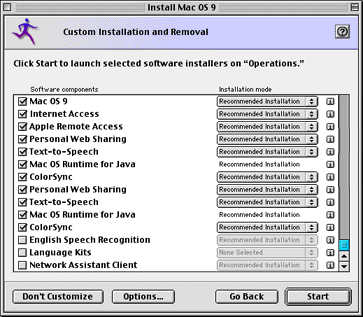 A standard install of Mac OS 9 requires about 200 MB on your hard drive. A minimal install of Mac OS 9 takes up about 80 MB on your drive. Installing everything requires almost 300 MB. Keep in mind that the default setting for the Mac OS is to have Virtual Memory enabled. With virtual memory, you will require an amount of disk space at least as much as the RAM you have installed. If you have 64 MB of RAM then you can count on needing at least 65 MB of hard drive space beyond the space the system files take up on your drive.
Although Mac OS 9 does take some great steps in the development of the Mac OS it does require a fair amount of RAM. A standard install results in about 25 MB of RAM being used just for the System software. This same install with Virtual memory off jumps up over 37 MB. If you were to install all the components of Mac OS 9, the memory requirements for Mac OS 9 can go as high as 47 MB with virtual memory off.
If you are considering upgrading to Mac OS 9 you should consider upgrading to at least 64 MB of RAM. With Mac OS 9, Apple says the minimum requirements are 32 MB of RAM and requires virtual memory set to 40 MB. At this setting you will see a significant performance hit using virtual memory. Real memory is always better than the virtual kind. (All tests done on the G3, 400 with the disk cache set to 2048k)
What to install?
To help you decide what to install I have provided three levels of recommendation for what you should install. Keep in mind that these are my recommendations based on my views of how most people use their Macs. I realize that there will certainly be notable exceptions to these recommendations and please feel free to install whatever components you feel will meet your needs. Also note that as Mac OS 9 is your "Internet co-pilot" I assume that you have an Internet connection when making my reccomendations. Remember in almost every case these components can be added and removed at any time, so there is no pressure to install something you aren't sure you will need. If at a later date you have the need for a certain component not originally installed you can just install it later.
| | |
| --- | --- |
| | Just Install it! Components with the exclamation point beside them are ones that practically everyone will be able to take advantage of and see the benefits from. |
| | |
| | You might want to install this. Components with the check mark are ones that depending on your connection to the Internet or how you use your Mac some will want to install, and others may not. Reading the notes beside each one will help you make your decision. |
| | |
| | Don't install it unless you really want to. Components with the big red "X" next to them are ones that have specific purposes that most people don't use or components that may get in the way of normal operation of your Mac unless you understand what they are doing. Be sure to read the notes and see if your needs meet the specifics for this component. I realize I'm setting myself up for flames galore on some of these but my goal is that people may be encouraged to look into some of these less conventional components and learn to take advantage of them. |
| | |
| | Another bit of information I've included about each component is the amount of disk real estate each one will require when it is installed. I hope this information will be helpful for those with limited disk space. |
---



Mac OS 9 (Click!) This is obviously the most important component of the 10. Mac OS 9 includes many items including the following:
| | |
| --- | --- |
| System Software | Sherlock II 3.01 |
| QuickTime 4.03 | Apple DVD 1.3 |
| OpenGL 1.1.1 | Multi-User Support |
| Keychain 2.0 | AppleScript 1.4 |
| Auto Updating | Mac OS Help |
125.3 MB
---


Internet Access 1.4.1 This component installs applications and utilities for using the Internet. Although all of these can be handy to have around, if you already have a web browser and e-mail client installed this component may duplicate some of the things you are already using. If you don't already have an Internet connection, the tools installed can walk you through getting on the Internet and even help you find an Internet Service Provider (Internet Service Provider). Also note that there are more recent versions of Outlook Express and Netscape Communicator are now available.
| | |
| --- | --- |
| Internet Explorer 4.5 | Outlook Express 4.5 |
| Netscape Communicator™ 4.6.1 | StuffIt Engine™ 5.1.3 |
| StuffIt Expander™ 5.1.4 | Aladdin DropStuff™ 5.1.2 |
| | |



48.8 MB
---


Apple Remote Access 3.5 (Click!) Apple has combined its Apple Remote Access and OT/PPP software. This software enables your modem to dial and connect to the Internet or an ARA server. If you don't use a modem to connect to the Internet, there is no reason to install this one. Also if you have a DSL or cable modem you won't need this software.



2.8 MB
---


Personal Web Sharing 1.5.3 (Click!) PWS provides the ability to make your Mac into a web server and share web pages and files directly from your hard drive. Although PWS can operate over a modem connection, generally a dedicated Internet connection and a static IP address is needed to take full advantage of it. If you do have a full-time connection to the Internet PWS can be both fun and functional for getting your web pages on the Internet



1.4 MB
---


Text-to-Speech 2.02 (Click!) The title just about says it all. Install this if you want your Mac to talk! This is also the software that can be configured to have your computer read errors to you after a set amount of time.



10.3 MB
---


Mac OS Runtime for Java 2.1.4 (Click!) Java is a software language that allows the same single small applications to be run on to be run on any number of major computer platforms. MRJ allows these 'Applets' to be run on your Mac OS computer. This is one that you will know if you need it. If Java is all new to you it might be worth doing some research to see what all the excitement is about. Most Web browsers will support Java scripts without installing MRJ 2.0. Some web browsers must be configured to use this software after it has been installed.



11.3 MB
---


ColorSync 3.0 (Click!) ColorSync is designed to provide consistent colors between what you scan, see on your screen, and print. If you are a desktop publisher you may want to install ColorSync and check out its features. If this all sounds like greek to you, then it is likely you don't need it.



1.9 MB
---

English Speech Recognition 2.0.1 (Click!) Speech Recognition requires an Apple Plain Talk Microphone. "Apple Speech Recognition lets your Macintosh understand what you say, giving you a new dimension for interacting with and controlling your computer by voice. You don't even have to train it to understand your voice, because it already understands you, from your very first word." While it can be exciting to say "Computer, tell me a joke." and have it respond, this software really isn't practical for every day use. It does lay the foundation for software coming soon that will take speech recognition to a new level.



2.7 MB
---


Language Kits 1.0 Mac OS 9 is world-ready, with integrated support for reading a variety of Latin-based languages in addition to Arabic, Chinese, Hebrew, Indian, Japanese and more. Input, edit, and print several languages in the same document. Depending on the languages selected this install can range from 332k to over 30 MB for single languages and almost 80 MB if you install all of them. This install is only necessary if you are using or viewing languages other than english. It is very cool if you are in the habit of doing so.



79.5 MB
---


Network Assistant Client 4.0.1 (Click!) The network assistant client works with the network assistant from Apple. Only instal this if your network administrator has instructed you to do so.


.7 MB
---
I hope that this MacTip has helped you sort out all the options available with Mac OS 9. Be sure to check out Eight.Six+ (soon to be 9.0+) for info about all updates to the Mac OS as they are released.
---
The Macintosh Guy || MacTips || Email Lists || My Blog
---
This site, its source code, and the MacTips logo ©1996-2016 Eric Prentice. All other names, logos and images are copyright their respective owners.